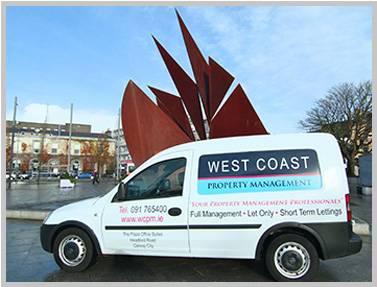 A Family Owned and Managed Business
West Coast Property Management Galway is a family owned and managed business with extensive experience in the Galway rental market. This experience means that we not only find tenants, we find the right tenants.
We pride ourselves on providing a bespoke, professional and personal service to our property owners and tenants alike. We are always working to become the best letting agents Galway has to offer.
The West Coast Property Management offices are located in the heart of Galway City, @ The Plaza Office Suites, Headford Road.
When we receive an instruction from a property owner, we show the property to prospective tenants seven days a week 7 am to 11 pm, not just during office hours. We are always vigilant of the cost of repairs and maintenance. We have a team of highly skilled tradesmen and engineers at reasonable rates should your property require any maintenance or repairs. It is at the owners discretion if they wish to use their own maintenance people.
Among the best letting agents Galway city has…
Adrian Murray is the owner of the West Coast group and is known to be one of the best letting agents Galway city has to offer. Honest, hardworking and always keeping his promise. Call West Coast Letting Agents services in Galway city today.